Taken inroosteren
Als u scripts op uw hostingaccount wilt uitvoeren op een specifieke tijd, gebruik dan het takenrooster in Plesk om het systeem de scripts automatisch voor u te laten uitvoeren.
Om alle ingeroosterde taken te bekijken die voor een abonnement zijn aangemaakt, gaat u naar Websites & domeinen > Ingeroosterde taken.

Voor elke taak in de lijst kunt u de instellingen wijzigen door te klikken op de naam van de taak. U kunt de taak activeren door te klikken op het pictogram

, u kunt de taak deactiveren door te klikken op het pictogram

of u kunt de taak per direct uitvoeren.
Voor het aanmaken van een ingeroosterde taak gaat u naar Websites & domeinen > Ingeroosterde taken > Taak toevoegen.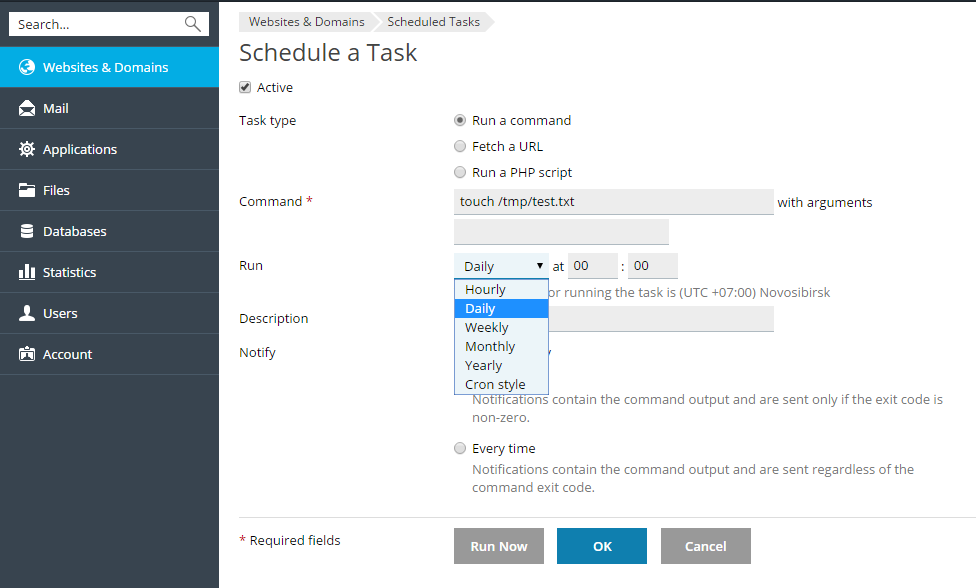 Eerst moet u het juiste type taak selecteren, afhankelijk van uw doelstelling:
Opdracht. Geef het volledige zoekpad op naar het uitvoerbare bestand dat moet worden ingeroosterd. Dit kan een binary-bestand zijn, een shell-script of een batch-bestand.
Een URL ophalen. Geef alleen de URL op; het is niet nodig om een zoals "curl" of "wget" opdracht op te geven.
Een PHP-script uitvoeren. Geef het zoekpad op naar het script, relatief ten opzichte van de map van uw virtuele host. U kunt klikken op het pictogram om het scriptbestand snel te vinden.
Opmerking: In Plesk voor Linux worden alle "Run a command"-taken standaard uitgevoerd in een chroot-omgeving. De hoofdmap van de systeemgebruik van een abonnement wordt gebruikt als hoofdmap van het bestandsysteem voor dat abonnement; er kunnen geen uitvoerbare bestanden buiten de chroot-jail worden uitgevoerd. Als u aanloopt tegen een "file not found"-melding tijdens het uitvoeren van uw ingeroosterde taken, probeer dan om in plaats van een absoluut zoekpad een zoekpad te gebruiken relatief ten opzichte van de hoofdmap van de systeemgebruiker. Als u de optie wilt hebben om bestanden uit te voeren buiten de chroot-jail, neem dan contact op met uw provider.
Selecteer vervolgens hoe vaak de taak moet worden uitgevoerd en geef de gewenste datum en tijd op. Standaard wordt hiervoor de tijdzone van de server gebruikt; als u een andere tijdzone nodig hebt, ga dan naar het tabblad Websites & domeinen > Ingeroosterde taken > Instellingen. U kunt ook een omschrijving voor de taak opgeven en meldingen instellingen.
Voordat u de taak opslaat hebt u de mogelijkheid deze te testen, zodat u zeker weet dat de taak goed is ingesteld. Klik op Nu uitvoeren en wacht tot de taak is voltooid. Als de taak nu een foutmelding geeft, dan zal deze ook niet goed werken wanneer hij automatisch wordt uitgevoerd. U moet daarom eerst uitzoeken wat het probleem is en deze oplossen.