DNS voor een domein instellen
Het domeinnaamsysteem (domain name system, of DNS) is een hiërarchisch benamingsysteem dat begrijpelijke domeinnamen vertaalt naar de numerieke identificatiekenmerken (IP-adressen) die zijn gekoppeld aan webhosts. Dit vertalen wordt ook wel omzetten genoemd. Als u een domeinnaam toevoegt (via Websites & domeinen > Domein toevoegen), dan moet u aangeven welke rol Plesk moet spelen bij het omzetten van het IP-adres: Plesk kan alle DNS-aanvragen direct omzetten, dienst doen als reserve-server, of de DNS-aanvragen doorsturen naar een externe server. Voor bestaande domeinnamen kan de rol worden gewijzigd (Websites & domeinen > domeinnaam> DNS-instellingen). In het vervolg van deze sectie bespreken we de verschillende aspecten van de rollen en geven we aanwijzingen hoe u deze kunt toewijzen.
Opmerking:Als Plesk geen gebruik maakt van de eigen DNS-dienst en ook het instellen van de DNS-configuratie op een externe DNS-server niet toestaat, dat kunt u alleen de informatie bekijken over de door u geregistreerde domeinnaam. De link DNS-instellingen onder Websites & domeinen zal worden vervangen door Whois-informatie.
Het omzetten van DNS-namen
DNS is gebaseerd om een hiërarchische boomstructuur die de 'domain namespace' wordt genoemd. Deze wereldomspannende namespace bevat alle domeinnamen en is onderverdeeld in logische delen: domeinzones (die de afbeelding hieronder). Een domeinzone maakt onderdeel uit van de namespace die de adressen van specifieke domeinen bevat. Adressen worden opgeslagen in een bestand op een aparte naamserver, die autoritatief is voor de betreffende zone. Stel bijvoorbeeld dat een browser toegang wil krijgen tot www.voorbeeld.nl, de browser moet dan het IP-adres van de site opvragen bij een server die autoritatief is voor de zone voorbeeld.nl. Als u wilt weten hoe DNS precies werkt, dan is er veel documentatie voor u beschikbaar. Er zijn verschillende bronnen op internet die u kunt raadplegen, bijvoorbeeld Microsoft TechNet.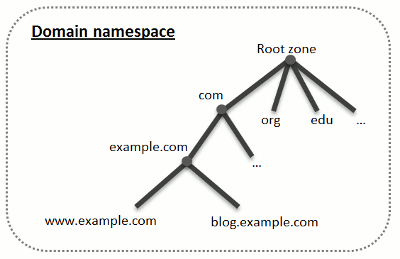 Wanneer u een domein aanschaft geeft een registrar u toegang tot de instellingen voor de DNS-zone die verantwoordelijk is voor uw domein en de subdomeinen daarvan. U kunt ofwel de registrar de zone laten beheren, of u kunt het beheer van de zone aan Plesk delegeren. Deze laatste optie geeft u de mogelijkheid om de zone direct vanuit uw cliëntaccount te beheren. Meer informatie over het delegeren van uw zone aan Plesk vindt u in de sectie Plesk als primaire DNS-server (master).
Opmerking: Veel registrars vragen u om tenminste twee aparte adressen van naamservers op te geven bij het aanschaffen van een domeinnaam. Standaard levert Plesk echter maar één naamserver. Als u een tweede naamserver nodig hebt, neem dan contact op met uw provider.
Als u een gevorderde gebruiker bent en u beschikt al over een DNS-server die u de autoriteit over uw zone wilt geven, dan kunt u Plesk instellen om dienst te doen als secundaire DNS-server (ook wel 'slave' genoemd). In dat geval slaat Plesk alleen een kopie van uw zone op en hebt u geen optie om deze vanuit Hostingbeheer in te stellen. De DNS-server van Plesk zal alleen worden gebruikt als uw primaire naamserver niet langer toegankelijk is of niet meer werkt. Meer informatie over Plesk als secundaire DNS-server vindt u in de sectie Plesk als secundaire DNS-server (slave).
Als u besluit om Plesk niet als DNS-server te gebruiken moet alle zonebeheer worden uitgevoerd op de site van de domeinregistrar. Sommige registrars bieden ondersteuning voor extern beheer van DNS-zones. Als uw hostingprovider deze mogelijkheid biedt, dan kunt u de DNS-zone nog steeds vanuit Hostingbeheer instellen, ongeacht waar uw autoritatieve naamserver zich bevindt. Voor informatie over het uitschakelen van de DNS-server van Plesk en het externe beheer van uw zone, zie de sectie DNS-instellingen van de registrar in Plesk.